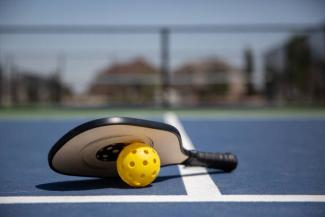 Pickleball; Finding your inner child again
Recently, Pickleball has been the fastest growing sport in America, and one big reason is that it's relatively easy to get up to speed and have fun after only a few hours of play, especially if you have a tennis or racquetball or even ping pong background.  Contrast this with golf and tennis where you can take lessons for years and still find yourself just as bad today as you were before the lessons!
Cranbrook Wealth founder Richard Balamucki was a long-time tennis player who became hooked on the game after his first time playing with a group of neighbors.  He said, "The great thing about Pickleball, is that it's just like being a kid again. You don't need to schedule a tee time, reserve a court, or find three friends to join you. No matter where you are, if there's a Pickleball court, you can just show up and play with whoever is there."  He also said that for many people, Pickleball can be a great stress reliever. "It's very social with the other players, but when you're actually playing, you need to have complete focus, and that sets you free from every other care in the world.  As they say in the commercials; that is priceless."
It is also a great way to build camaraderie in your business.  Everyone at Cranbrook plays and they often meet up at 6:00 AM to get some games in before the workday starts.  Richard added. "Some of our best ideas come up at post-game breakfast meetings."
Pickleball paddles are not much bigger than a ping pong paddle which makes them an easy fit for your briefcase or airline carry-on, making playing everywhere possible. Richard said he's even put down court lines on a cruise ship deck to play with other passengers. He has played in all four corners of the United States from Alaska to Florida to California, and north to Connecticut.  He has attended Pickleball camps in Costa Rica and the Dominican Republic.
It's truly become a passion for many people.
All of this is, why Cranbrook Wealth chose to provide a major part of the funding to have the courts in the Falconbridge neighborhood resurfaced.
Pickleball is so much fun that the laughter and conversation at the courts is more annoying to close by neighbors than the sound of the balls hitting the paddles!
Pickleball is America's fastest-growing sport (nbcnews.com)
Disclosures:
The information, statements and opinions expressed in this material are provided for general information only, are based on data we believe to be accurate at the time of writing, and are subject to change without notice. This material does not take into account your particular investment objectives, financial situation or needs, is not intended as a recommendation to purchase or sell any security, and is not intended as individual or specific investment, legal, or tax advice. Each taxpayer should seek independent advice from a tax professional based on his or her individual circumstances. Advisory services are only offered to clients or prospective clients where Cranbrook Wealth and its representatives are properly licensed or exempt from licensure. No advice may be rendered by Cranbrook Wealth Management, LLC unless an investment advisory agreement is in place.