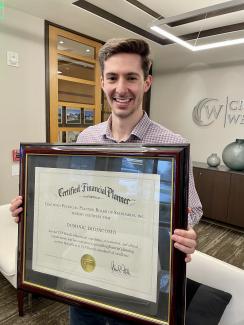 Dominic DiGiacomo is Cranbrook Wealth's newest Certified Financial Planner®!
We're proud to recognize Dominic DiGiacomo for his new professional designation: Certified Financial Planner®!

The CFP® certification requires 12-18 months of coursework; passing a six-hour, 170-question multiple-choice exam; 6,000 hours of professional experience related to the financial planning process; and, adherence to high ethical and professional standards for the practice of financial planning. It's a years-long process that equips Dominic to provide comprehensive financial guidance to our clients.

Congratulations, Dominic!